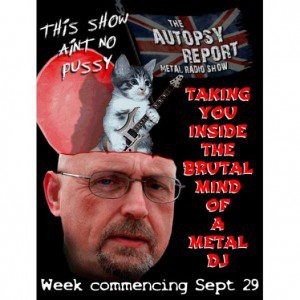 The Autopsy Report Metal Radio Show 29th September – 5th October 2014
Dare you enter the brutal mind of the metal DJ? What might you find in there? That which scares you? Excites you? Or just fucking irritates you? Whatever dude. Inside this DJ's mind we have a plethora of brutal upcoming independent bands all waiting to psychoanalyse you and give you the shock treatment. So, tell us about your mother, and tune in!!!
This week's playlist:
Gormathon – In Benevolence
Obzidian – Preservation Of The Wretched
Wrayth – Taker of Souls
Ravenous – Reverse (sympathy)
Hammerdrone – Prometheus Is Murdered
Counterhold – Time To Die
Patron Saint Of Plagues – Hangtime Shuffle
Engines Of Vengeance – Live Clean, Fight Dirty
Chris Violence – The Working Dead
Elias T. Hoth – Lock n Load
After Dusk – Gamma Ray Burst
Motherfaster – The Nymph And The God
Voodoo Sex Cult – 40 Days
Insaniter – Allay Of Fear
The Senton Bombs – Nothing Quite Like This
Le Poisson – Waves
Ripio – Manos En La Espalda
Voodoo Terror Tribe – Screaming Dreams
Argent – Hold Your Head Up
www.autopsyreport.co.uk
www.facebook.com/autopsyradio
www.radiovillains.com
Cheers,
Gramie
Prepare to be dissected.