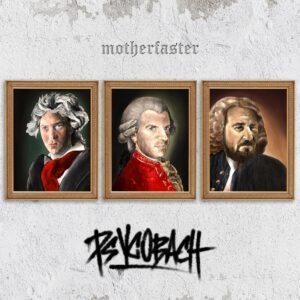 Concerto for guitar, bass and drums in A minor. Maybe murder in A minor! Or if you read the lyrics of the song, "Murder by a minor"! We thought it would be good to introduce ourselves and our friends to some culture, so we went extra sacrilegious with this one! Listen to the complex magic of some of J.S. Bach's famous melodies coupled with classic straight forward Motherfaster riffs! Also, Bach did a cover of his favorite baroque artist Antonio Vivaldi, which we featured in the solo section of the song. So, it's Motherfaster covering Bach, who was covering Vivaldi!  Maestro will be turning in his grave! Here is a story of a total bastard that was abusing his wife and daughter, only to find a fitting end!
Ba-rock yourself out!
Also sorry for the cover too… We did that on purpose.
Spotify pre-save: https://show.co/ZNsuuJR
Released on December 9, 2022
Music by Motherfaster, J.S. Bach and A. Vivaldi
Lyrics by Paminos
Drums recorded at PR studio
Guitars recorded at Woodstock studio
Bass & vocals recorded at After Dusk studio
Mixed & mastered by Paminos
Cover illustrations by Marianna Konstantourou. Cover digital processing by Tones
Produced by Motherfaster
Short Bio:
Motherfaster formed after a jam session during the end of 2011. They are based in Athens with the common purpose to extract the dirtiest side of their souls and present it as an audio insult.
They recorded their debut in early 2014. George Emmanuel was the sound engineer and Jeffro Lackscheide mixed and mastered the album. In November 2014 Terrorizer magazine (Issue 254) featured the first single "The nymph and the god", along with legendary metal bands Exodus and Obituary. The album was released on February 24, 2015.
In the summer of 2016, they covered Impaled Nazarene's magnum opus "Blood is thicker than water".
On December 2, 2019 they released the successor. Entitled "Slower Father", it is recorded at Pentagram studio and George Emmanuel mixed and mastered it. Nine explicit, dirty stories gilded with a mix of heavy metal – hard rock music. Motherfaster's second album is taking their signature sound one step further. Ruder, dirtier, heavier.
On January 25, 2020 they opened the Athenian show of metal pioneers Rotting Christ. During the following lockdown they recorded a cover version of Fleetwood Mac's "The green Manalishi (With the two pronged crown)".
In 2022 Motherfaster released a cover of "Anvil of Crom" and two long awaited original singles.
Motherfaster is: Paminos – Vox + Bass | Bill – Guitar | Jim – Drums